---
Simone Biles on Well-Being, Resilience, and Courage
The five-time All-Around World Champion opens up about mental well-being.
---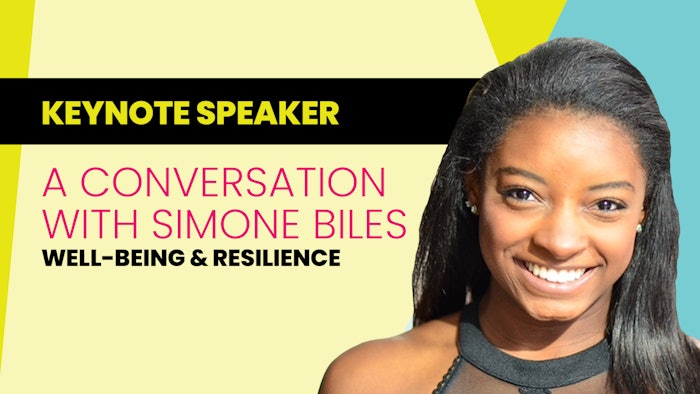 Less than five months ago, on a global stage and under intense scrutiny at the 2020 Summer Olympics in Tokyo, Simone Biles surprised the world — and even the world champion herself — when she withdrew from the women's team final, the women's all-around, and several individual events over mental health concerns that could have put her physical safety in jeopardy if she continued.
"As soon as I did it, obviously I was sad because that's five years of work that I had put into it," Biles said during Monday's opening session of the ASHP Midyear Clinical Meeting & Exhibition. "But then, the fact that I took care of myself and I had the bravery and the courage to do that really shocked me, because never in a million years would I necessarily put myself first … to decide, 'You know what, this isn't right and that's okay.' And even though we're on a global scene, we're at the Olympics, I think it opened a lot of people's eyes."
Speaking to ASHP TV host Dwayne Ballen, Biles, who has five All-Around World Championship titles and seven Olympic medals, described the moment she made the difficult decision to bow out of the competition, explaining that she had been struggling for several days. "As soon as warm-ups started, it didn't go well and I was like, 'Oh, this is really bad,'" Biles said. She thought of her teammates, not wanting to impact their medal contention chances, and decided to take a step back. She said she's still in the process of getting well, and is currently "in a much better head space mentally and physically."
Her decision was widely applauded by health experts and supporters around the world and created a forum for positive discourse on prioritizing well-being even in the face of intense public scrutiny.
Biles said she thought she would become embarrassed and receive backlash for her decision, but instead received an outpouring of love and support.
"People were coming up to me in the Olympic Village saying, 'Thank you for what you've done, you've helped me so much,'" Biles said. "A lot of athletes go through this but it's kind of silent, so to be a voice for them as well made me feel good."
While she didn't walk away with the experience she had trained for, she said she's working on herself and back in therapy, which she may not have done had she not withdrawn.
"Honestly, I'm grateful because there are still a lot of things I still need to work on internally instead of just going out and putting on a brave face and competing because the world wants me to."
In September, Biles and other gymnasts testified before the Senate Judiciary Committee for the investigation into Larry Nassar, the former USA Gymnastics doctor who was accused of sexually assaulting hundreds of girls and women and convicted on multiple charges. Biles said Monday that with everything that she went through mentally and physically with Nassar and USA Gymnastics, it was "so much for one girl to take and not be in therapy and to keep pushing on."
"The good thing is people realized the magnitude of mental health and how we still have to keep that talk at the forefront so that we can help athletes and people all over," Biles said.
Asked what she would say to ASHP members about managing daily stress, Biles said people should be able to take mental health days in order to relax, regroup, and reset.
"You have to learn your boundaries as well because people will take as much as they can take until you say 'No, I don't feel comfortable with this,'" Biles said. 
She also acknowledged the efforts and resiliency of pharmacists, who have been on the front lines of the COVID-19 pandemic.
"Personally I think that you guys have done a really great job, so I applaud you for your tremendous help and efforts through [the COVID-19 pandemic]. I think that's a really huge thing that people tend to just brush over, is you guys signed up to be something like this, but not to this magnitude, and I think that's the misconception of a lot of jobs," she said.
Biles said her parents have been her personal mentors; while in the sports world she looks up to Serena Williams, LeBron James, Naomi Osaka, and Katie Ledecky, who are "really great at what they do," but also protect their mental well-being and speak out on topics that need to be talked about, such as mental health.
While Biles has not yet retired from the sport of gymnastics, she took a moment to consider the question of what she would like the headline to be when she finally does walk away.
"Hopefully that I had courage, I spoke out for what I believed in, and I paved the way for younger generations to come out, to be great and authentically them."