---
FDA, CDC Experts Share COVID-19 Vaccine Progress
COVID-19 vaccine scheduling recommendations could change as new data emerge.
---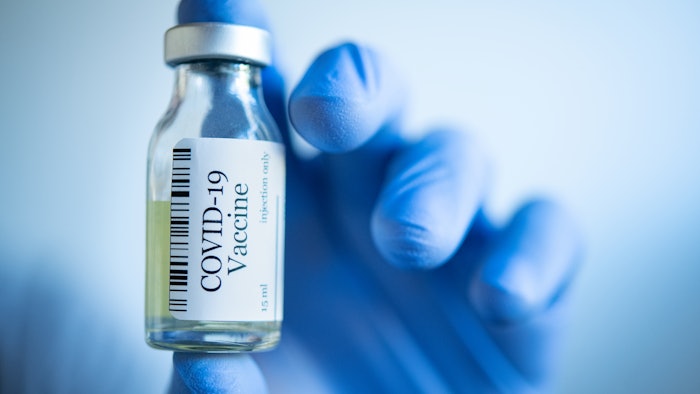 The special Discovery Wednesday session "Never Miss a Shot: Expert Perspectives on the Current Status of COVID-19 Vaccines and a Look Ahead" gave Midyear attendees an inside view of the authorization and licensing of lifesaving COVID-19 vaccines for adults, adolescents, and young children.
"The Pfizer COVID-19 vaccine approval ... happened in relatively record time," said featured speaker Peter Marks, director of the Food and Drug Administration (FDA) Center for Biologics Evaluation and Research. The agency approved an emergency use authorization for the Pfizer mRNA vaccine Dec. 11, 2020, and licensed it Aug. 23, 2021 — less than 100 days after receiving a licensure application for the vaccine, now known as Comirnaty.
Marks said despite the apparent speed of the licensure process, FDA's decision was based on "a nice safety data set" from about 44,000 clinical trial participants, including 12,000 who were followed for at least six months.
At the time Marks spoke, FDA had licensed or authorized three COVID-19 vaccines: Pfizer–BioNTech's Comirnaty, Moderna's investigational mRNA vaccine, and Janssen's investigational adenovirus vector vaccine.
"There are two protein subunit vaccines that are coming up in development as well," Marks said. "It's important to have this diversity of different types of vaccines. Hopefully, some individuals who might not take an mRNA vaccine or one of the adenoviral vector vaccines will be willing to take a protein subunit vaccine."
He added that FDA is interested in "how the various mixing and matching of these vaccines, typically in the booster situation, pans out."
Booster doses are authorized for all adults at least six months after they complete a primary COVID-19 vaccination series. Any licensed or authorized COVID-19 vaccine can be given as a booster, regardless of the vaccine used for the primary series. Early serologic data from a mix-and-match study suggest that booster doses administered 12 or more weeks after the primary series are well-tolerated and immunogenic.
Marks reminded attendees that booster doses are distinct from the so-called extra dose authorized for mRNA vaccine recipients who have conditions that compromise the immune response. The extra dose functions as part of the primary vaccination series to induce an acceptable level of immunity to the SARS-CoV-2 virus.
Booster doses, in contrast, are meant to bolster immunity that was initially protective but has waned in the months since completion of a primary vaccination series.
Marks noted that COVID-19 vaccine scheduling recommendations could change as new data emerge.
"We really don't know yet whether the way we deployed this vaccine, with the two doses early on, is sufficient," he said. "It may be that a third dose at six months or so, like a number of other adult vaccines, is what's necessary to produce a more durable immunity. And I think there's a fair suspicion that that might be the case."
Marks said FDA is monitoring the recent emergence of the COVID-19 Omicron variant and awaiting data on how the variant may affect vaccine recommendations.
"With only about two weeks of history, ... we really don't know a tremendous amount," he cautioned. But he said early data suggest that people who complete a COVID-19 primary vaccination series and receive an appropriately timed booster dose mount a robust response to Omicron that protects against severe illness.
"Go out and get vaccinated. And if you are vaccinated and the time is appropriate, go out and get boosted," he urged.
He said FDA expects laboratory and epidemiologic data on Omicron to become clearer in the next 2–4 weeks.
FDA has determined that the benefits of COVID-19 vaccination far outweigh the risks. Marks said the agency continues to investigate vaccine-associated adverse events, including myocarditis, a rare and usually transient event mostly commonly reported in males, age 12–29 years, after administration of the second dose of an mRNA vaccine.
Marks said myocarditis may be an inflammatory "stacking" response related to the 21-day vaccine administration interval. But he cautioned that for now, this potential explanation is speculation, not fact.
Marks characterized as "excellent" the efficacy data that supported authorization of the Pfizer–BioNTech vaccine in adolescents age 12–17 years, although he noted that the clinical studies largely took place before the emergence of the Delta variant. The vaccine formulation and dosing schedule for this group is the same as for adults: two 30-µg doses administered 21 days apart.
Studies in children age 5–11 years occurred while the Delta variant was circulating. Marks said efficacy data were nonetheless "quite good" at 90.7%, compared with placebo. Two 10-µg doses of the Pfizer–BioBTech vaccine, administered 21 days apart, have been authorized for this age group.
The next group up for consideration is children under age 5 years, and Marks said populations within this age group may require smaller dosages than older children.
"Companies are conducting clinical trials in this area," Marks noted. "We're expecting to see data by early ... 2022. And we'll review those data very rapidly, because it's very clear that there's a desire and a need to get the entire population vaccinated."
Sara Oliver, chief of the Centers for Disease Control and Prevention COVID-19 vaccine advisory work group, said the agency gets many inquiries about COVID-19 vaccine dosages for children.
"Children receive the age-appropriate vaccine formulation regardless of their size or weight," she emphasized. "This is how vaccines are done across the board."
Oliver said that although pediatric COVID-19 case counts were low at the start of the pandemic, a growing proportion of cases are now occurring in children.
"We know that children can and do get COVID. We've had over 2 million cases among children 5 to 11 years of age," Oliver said. She said more than 8,300 children in that age range have been hospitalized with COVID-19, with a third of them admitted to intensive care units.
Oliver said widespread vaccination remains the key to preventing serious illness from COVID-19 and, ultimately, ending the pandemic.
"COVID vaccines are recommended for everyone 5 years of age and over, regardless of a history of symptomatic or asymptomatic SARS-CoV-2 infection or seropositivity," she said.