---
Addressing Social Determinants of Health
The role pharmacists play in influencing change.
---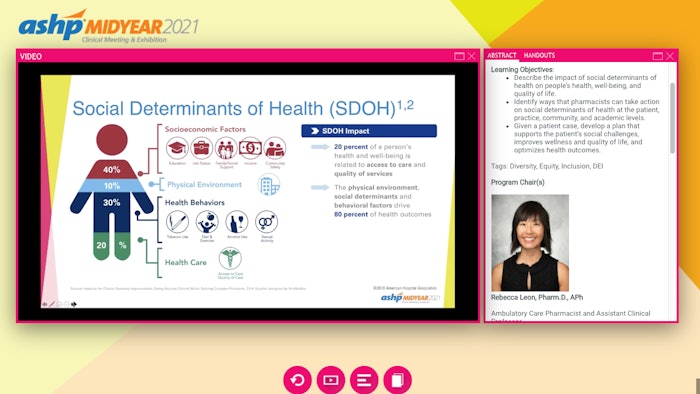 Most patients see their community pharmacists nearly 12 times more than they see their primary care providers — that's 34 visits per year versus an estimated three annual visits to the average patient's primary care provider.
That distinction was at the core of the on-demand session, "Four Ways Pharmacists Can Address Social Determinants of Health in Clinical Practice." According to session speaker Rebecca Leon, an ambulatory care pharmacist and assistant clinical professor at the University of California, San Francisco, such a partnership can and should be leveraged to improve the impact of social determinants of health (socioeconomic status, education, physical environment, employment, and social support networks) on people's physical health, well-being, and quality of life.
"To improve people's health and well-being, we need to consider these factors and address the social determinants of health," Leon said. "We know social determinants have a bigger impact on a person's health than clinical care. Therefore, we must support practices that address these key issues as part of a successful population health strategy."
The World Health Organization defines social determinants of health as circumstances in which people are born, grow up, live, work, and age and the systems put into place to deal with illness. In fact, according to the Institute for Clinical Systems Improvement (ICSI), only 20% of a person's health and well-being is related to access to care and quality of services. Socioeconomic factors, physical environment, and health behaviors drive 80% of health outcomes.
"These conditions affect a wide range of health, functions, and quality of life outcomes and risks," Leon said. "An individual's ability to achieve good health is influenced by more than access to high quality medical services."
During the on-demand session, Leon said pharmacists are the most accessible healthcare professionals in communities with the power to intervene. These interventions include learning, asking, referring, and advocating for patients with identified social needs.
Prior to the pandemic, Leon said there were a variety of initiatives to address social determinants of health, both in health and non-health sectors. But COVID-19 is exacerbating the impact of these inequities, particularly for underserved communities and for people of color.
Consider, too, that people who could not work remotely had increased exposure to COVID-19 due to job type, Leon said. Those who already had food insecurity had challenges even getting to the grocery store with little public transportation. Housing instability increased for those who lost their jobs and were worried about how they could pay their rent. 
The pharmacist's role in improving social determinants of health begins with a simple conversation, Leon said. Go beyond treating the immediate health problem. Ask the person about his or her underlying social problems. Be sure to assess whether it's safe to have such a conversation with that person and whether you can do so in private. Is the patient free to talk? Could the patient be harmed by talking? Is the healthcare worker safe? If the answer is no, she said, consider asking during future visits. It may take several visits to build a relationship of trust and a safe space for disclosure.
Pharmacists also can influence community-wide changes, she said, including talking with community leaders and raising awareness of the priority health and social issues facing your community. Recognize and address the barriers to these challenges.
"We see how social issues can quite literally kill our patients. Prescriptions, labs, and procedures do nothing for our patients if we do not address the social determinants of health underlying their health issues," Leon said. "Our patients will never be healthy if basic human needs such as housing, healthcare, food and safety are not met."
ASHP's Statement on the Pharmacist's Role in Public Health, published advance access on Oct. 11 by AJHP, may be found here.