---
Five Questions With ASHP President Linda S. Tyler
---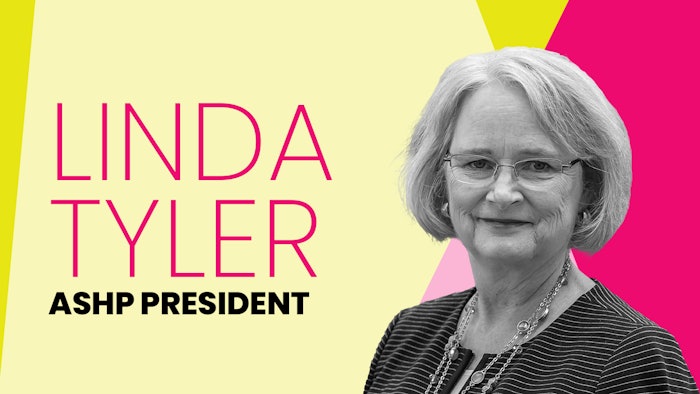 We are looking forward to the 56th Midyear Clinical Meeting & Exhibition, which will be held virtually in 2021 due to the ongoing COVID-19 pandemic. Registrants are bookmarking sessions, making plans for online networking events, and pharmacy students and residents are gearing up for the Residency Showcase and PPS. What are you most excited about this year?
I have been a member of ASHP for over 40 years, and every year I look forward to this meeting. However, this year, I have the honor of serving as the president of ASHP. I'm especially excited about the opportunities we have through a virtual medium, which allows people to attend more sessions than they would in person, as well as the breadth of sessions in areas that explore timely topics such as the COVID-19 pandemic, resilience, innovation, and diversity, equity, and inclusion (DEI). I want to talk about some of these in a little more depth.
DEI: Earlier this year, the ASHP Task Force on Racial Diversity, Equity, and Inclusion released its recommendations, and among them was that ASHP should provide educational resources on diversity, equity, and inclusion education to all members. This is not the first time we have offered DEI programming, but this year we are providing more sessions focusing on critically important issues of equity, health disparities, and diversity than ever before. A few examples of this year's programming include:
    — Not Just Black or White: Rethinking the Concept of Race-Based Algorithms in Clinical Practice            
    — The Pharmacist's Role in Promoting Healthcare Equity and Anti-Racism Practices
    — Caring for Transgender People: Insights and Points of Controversy in Medication Therapy.
COVID-19: ASHP has been providing much needed educational resources and essential information to pharmacy teams since the outset of the COVID-19 pandemic. Our 2021 meeting is no exception. Sessions this year include:        
    — Sick and Tired of Being Sick and Tired: New Perspectives on Occupational Burnout During the COVID-19 Pandemic
    — Critical Care Pharmacotherapy: Reflection on the COVID-19 Pandemic
    — Give It Your Best Shot! Evaluating COVID-19 Vaccine Best Practices
Additionally, I feel like this year's keynote session featuring Simone Biles, one of the greatest gymnasts of all time, will be amazing. She advocates for mental health and will discuss the importance of well-being and resilience, a topic that truly resonates with us as healthcare workers on the front lines since the pandemic started in March 2020.   
What's your favorite aspect of Midyear?  
The best part of the Midyear is the ability to connect with people and share ideas both through networking and the educational program. It is pretty powerful to have over 25,000 pharmacy team members in one place in a way that brings the profession together.
Pharmacy teams are pretty amazing. We are really creative in solving problems and finding innovative solutions. Even on a different platform we have proven that we can still engage in meaningful discussions. I highly value the world-class educational programming, with leading experts who share best practices, research, clinical pearls, and more. This is how we share ideas and strengthen practices.
What is it about Midyear that you feel best helps those in the pharmacy profession advance their careers?
For students and residents, Midyear provides an experience that can't be replicated anywhere else. They'll make professional connections that could impact the trajectory of their careers for years to come. ASHP data show more than 70% of those matched through the ASHP Residency Matching Program did so after meeting program representatives at Midyear.
Pharmacy technicians and pharmacists also have the opportunity to make lasting connections through networking events that Midyear offers.  
How has Midyear evolved from your first experience?
My very first Midyear was in 1978 in San Antonio. About 5,000 people were in attendance. As the longest, continually running clinical pharmacy meeting in the world, Midyear has always served as our profession's premier event. Over the years, it has certainly grown since the first meeting in 1966 in Washington, DC, which brought together more than 250 pharmacists. Now Midyear regularly attracts more than 25,000 people. With that tremendous growth, the ASHP Midyear has evolved into an event unmatched by any other in the pharmacy space, providing more than 200 hours of education, the world's largest Residency Showcase, amazing keynote speakers including world-renowned researchers, a former First Lady, award-winning actors; and much more.   
Do you have any words of advice for first-time attendees?
The beauty of a virtual format allows attendees to more fully participate in all that Midyear has to offer. I encourage everyone to take advantage of the online nature of the meeting and access sessions for continuing education credits, stop by the virtual poster hall to learn about new research, engage with presenters using the live chat, visit the ASHP Pavilion to learn about ASHP products and services, and check out the interactive virtual Exhibit Hall. If you're job hunting or looking for a residency program, be sure to research these services in advance to prepare for your virtual meetings and interviews. I hope you'll also stop by the ASHP Pavilion to get to know the ASHP Board of Directors during the virtual member engagement opportunities.
In short, I have no doubt that this year's virtual meeting will live up to its theme — "Shine Bright."