---
Double Your Donation During the ASHP Foundation's Match Campaign to Move Pharmacy Forward
Our once-a-year donor match has been activated!
---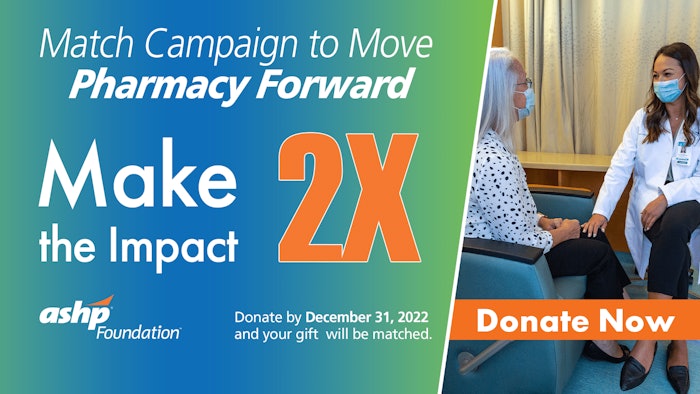 During our Match Campaign to Move Pharmacy Forward, every contribution made by Dec. 31 will be matched dollar for dollar by our corporate supporters: Alexion, Boehringer Ingelheim,
Fresenius Kabi, Omnicell, QuVa Pharma, and Samson Medical Technologies. Thanks to our generous donors, the Foundation continues to inspire change and innovation in pharmacy practice. 
The ASHP Foundation is 100% donor supported and all gifts are tax-deductible to the extent allowed by law. Donor generosity helps the Foundation fulfill its mission to support ASHP by advancing the professional practice of pharmacists and the pharmacy workforce by funding research, leadership development, and education programs that improve health outcomes through optimal, safe and effective medication use.
Your generous support has enabled the Foundation to accomplish a number of significant achievements, including:
Awarding over $4.7 million in research funding since 2004 to advance pharmacy practice
Supporting ASHP's commitment to diversity, equity, and inclusion by awarding five research grants in 2021 of $10,000 to early stage pharmacist researchers
Developing the leadership skills of pharmacists through the Pharmacy Leadership Academy , which has graduated over 1,000 emerging leaders since 2008
Awarding $90,000 in grants to projects encouraging collaboration and integration between pharmacists and other health professionals
Don't miss out – double your donation today and help the ASHP Foundation move pharmacy forward.
And wind down your day by joining the ASHP Foundation at our Cocktail Celebration with the ASHP Foundation, Monday, Dec. 5 from 4:30 to 6 p.m. at the Mandalay Bay South Convention Center, Breakers F, Level 2. All are welcome!
Double Your Donation During the ASHP Foundation's Match Campaign to Move Pharmacy Forward.