---
Inclusive, Affirming Care Is Key to Better Health Outcomes
Creating a safe space for LGBTQIA+ people requires not just knowledge, but action and advocacy.
---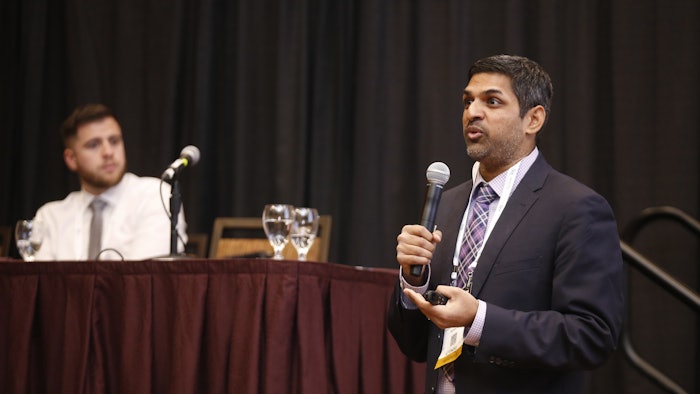 Creating safe spaces for patients and learners who are lesbian, gay, transgender, queer/questioning, intersex, or asexual (LGBTQIA+) improves their engagement with the healthcare system and therefore leads to better health outcomes. However, fostering a culture of affirmation requires not just knowledge, but action and advocacy on the part of pharmacists and other members of the healthcare team.
Inclusive, Not Elusive: Creating a Safe Space for LGBTQIA+ Patients and Learners, presented Monday at the Midyear Clinical Meeting & Exhibition, offered tangible strategies and practical tools for pharmacists to make things better in practice and classrooms.
The session opened with a review of key terms, definitions, and concepts pertaining to sexual orientation, gender identity, and gender expression. The vocabulary is continuously expanding and evolving in part because "the LGBTQIA+ community doesn't feel very heard or respected right now," explained Sandeep Devabhakthuni, associate professor and director of postgraduate training at the University of Maryland School of Pharmacy. "They are trying to step it up because of the stigma … and ridicule they have experienced throughout their lives."
Devabhakthuni went on to describe the "astonishing" and "alarming" social determinants of health affecting people in the LGBTQIA+ community, such as higher rates of poverty (especially in more rural areas) and housing discrimination. Sexual and gender minorities are more likely to be targets of hate crimes than any other group in America. They also experience higher rates of mental health disparities, suicidality, and sexually transmitted infections. These disparities can be exacerbated by racial and ethnic identity — for example, 30.8% of Black LGBTQIA+ people live in poverty, compared with 25.3% of Black cisgender straight people.
Taken together, these factors greatly contribute to why the LGBTQIA+ population is often unable to afford medication and other healthcare. Transgender patients are the most vulnerable subgroup, and they may be hesitant to engage with the healthcare system for fear of mistreatment or insurance coverage problems.
"Our health system fails when it focuses more on equality, trying to be equal to everyone, without any consideration of people's needs or reducing the barriers people have … to getting the care they need," Devabhakthuni stated.
Knowing all this, how can pharmacists make things better for their LGBTQIA+ patients and learners? "There are so many ways we can create affirming environments," shared Christopher G. Medlin, clinical assistant professor at The University of Texas at El Paso School of Pharmacy.
First, Medlin said, pharmacists must practice inclusive communication, such as avoiding assumptive language like "Mr./Mrs." and "boyfriend/girlfriend." It's fine to ask about a person's pronouns, for example, if you don't know someone's preference. If you do misgender someone or use incorrect pronouns, it's best to acknowledge the mistake, briefly apologize, then move on.
Second, the field must understand that while disclosing one's sexual orientation or gender identity has its benefits, it's not without risks. As such, many people choose to compartmentalize, keeping their personal identity separate from their professional identity.
Finally, the presenters stressed the importance of allyship. Pharmacists must recognize the challenges that exist for the LGBTQIA+ community and commit to speaking up if they witness microaggressions. The presenters challenged pharmacists to stay educated on inclusive terminology and affirmative practices. "It's your responsibility as allies to stay up to date. It's not the responsibility of the three LGBTQ people you happen to know to educate you on changes that have occurred," Medlin said.
The session concluded with strategies specific to improving the pharmacy learner and patient experience. Preceptors must take care to make sure student pharmacists feel comfortable being themselves, starting with collecting learners' chosen names and pronouns at the start of a rotation. On the patient side, healthcare systems should update their electronic medical records systems with standardized fields for patients' chosen name, gender identity, and pronouns.
The highly interactive session guided attendees through three case scenarios to evaluate and practice the newfound strategies they had learned.
Devabhakthuni stressed that this work is active, not passive. "It is not enough to simply be inclusive. If you're not doing anything to help someone advance in the career ladder at work or give them the same opportunities you would give someone else, you're not really affirming (their identity)," he said.
For more resources on this topic, visit the ASHP Inclusion Center.