---
Lee Health Implements PAI 2030 Recommendations to Bolster Pharmacy Technician Training Program
---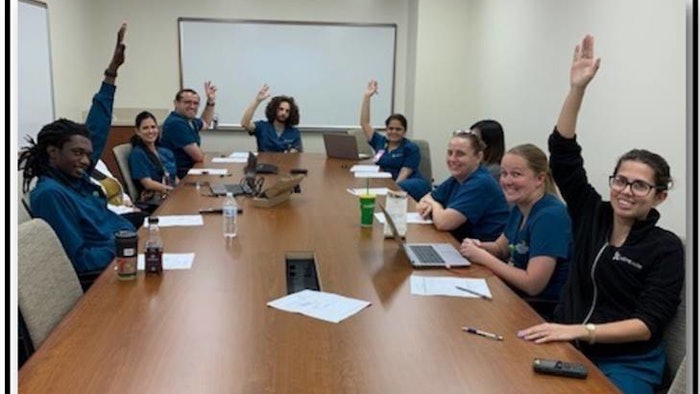 When the only school in southwest Florida that trained pharmacy technicians closed down a few years ago, pharmacy leaders at Lee Health were concerned. To address this void as well as an ongoing shortage of pharmacy technicians in the area, they planned and launched their own ASHP/Accreditation Council for Pharmacy Education (ACPE)-accredited education and training program for pharmacy technicians in 2017. So far, they have recruited 37 of the program's 40 graduates—a nearly 93% success rate, and even with the COVID-19 pandemic, 21 of them so far have completed their certification exams.
Advancing technician roles
A case study about the program is featured on ASHP's Practice Advancement Initiative (PAI) 2030 website. PAI 2030 includes tools and resources aimed at advancing pharmacy practice through the next decade. "[PAI 2030] is a great starting point to help organizations identify gaps and develop action plans in order to achieve many practice advancement initiatives such as expanding pharmacy technician roles, education and training while promoting optimal, safe and effective medication use," said Lee Health pharmacy director Yanela Lozano.
To get started, Lozano and her colleagues gathered data on the turnover of pharmacy technicians in their system, put together a plan for what a health system-run training program would look like, and presented it to the C-suite. "They liked that we were hoping to expand and provide additional pharmacy technicians for our own hospitals," Lozano said.      
Next, they hired Amanda Teckenbrock to be the pharmacy technician program coordinator to build the curriculum and get the classes started. They also met with human resources and the legal department to ensure that trainees would be processed as volunteers of the health system with appropriate ID badges, so they would have the opportunity to shadow and gain experiential training. They leveraged existing department and system resources to support the program. They created a Program Advisory Council of pharmacists and pharmacy technicians within the system to provide oversight, teaching, and management support.
Teckenbrock and other department heads who hire pharmacy technicians screen and meet all candidates face to face. In addition, applicants complete math and English proficiency assessments and undergo criminal background checks and drug screenings. Promising candidates who don't score well on the math assessment are offered an intermediate math class prior to enrollment.
"It's definitely very important to have a face-to-face interview," Teckenbrock said, "because it's going to tell you a lot. And our number one goal is to retain everyone we train."
Rigorous tech training program
Having a robust ASHP/ACPE-accredited technician education and training program is another organization focus recommended by PAI 2030, noted Lozano.  The pharmacy technician training is a 21-week program, which meets 5 p.m. to 9 p.m. weekdays, is designed so that pharmacy technicians learn in a classroom environment, practice through simulated labs, and work in patient-centered pharmacies to improve knowledge and skills in various pharmacy areas. The goal is to prepare future pharmacy technicians by promoting confidence, leadership, and professional skills to optimize patient outcomes through interdisciplinary medication management. After graduating, pharmacy technicians have the skills to serve as liaisons of the pharmacy department on all decentralized nursing units. With their robust experiential training, they require minimal training time and resources compared to external hires.
To entice students, fees for the program, which is offered twice a year and capped at ten students per class, are waived for any candidate who agrees to work for Lee Health for a minimum of one year following program completion. Lozano and Teckenbrock have made additional adaptations over time to keep interest going among candidates.
For example, some potential trainees were upset they missed out on application periods, so Teckenbrock created an open enrollment process all year. She already has 13 candidates who have filled out applications for the class starting in January 2022. Some candidates were nervous or turned off about having to take math and English exams, so they changed the test name to "assessment" to make it more palatable. The team also found themselves competing with other departments for limited conference room space to hold classes, so they moved to one of their acute care hospitals that had a large conference room within one of the pharmacy departments. 
At the end of the program and within their first three months of employment, pharmacy technician students are required to be certified by the Pharmacy Technician Certification Board.
Career development opportunities
PAI 2030 also recommends that organizations foster professional career development opportunities for pharmacy technicians.  Lee Health completed a turnover analysis across the system among pharmacy technicians. The team observed that one of the reasons employees were leaving the health system was due to a lack of career development opportunities, Lozano noted. She and Teckenbrock helped develop a system pharmacy leadership workgroup, a pharmacy technician career ladder program to recognize and retain skilled pharmacy technicians, provide leadership advancement opportunities, and improve employee engagement and satisfaction.
Now, technicians can move from a tech 1 entry-level position, to tech 2 and tech 3 jobs with increasing responsibilities and pay. The tech 1 is a basic pharmacy technician, Lozano explained. After a year of service, they can participate in lean initiatives and train in a specific area such as chemotherapy or medication history at admission to become more of an informal leader within the department and apply to be a tech 2. After three years in that position, they can apply to become a tech 3, the highest level of the scale, where they would become a proficient expert in a particular area and help train others within their facility or system level to perform advanced functions. Tech 3s also become preceptors for current students getting their experiential hours. The program has been well-received and helped decrease turnover.
As an added incentive, the team also created a Pro Re Nata job description to offer jobs to promising pharmacy technician students even before graduation based on department-specific staffing needs. After the first ten weeks of the program, the team can now extend a temporary job offer to students through which they can start extra training, orientation and get paid until they sit for their certification exam. Once they pass, they are moved to a regular tech 1 position.
"It motivates the students because they know that they have that opportunity," Teckenbrock said. "They know they're on an extended job interview while they're doing their extra hours, and it encourages them to work harder for it." The team also added a medication safety section into the training program to highlight how medication safety practices are important in all aspects of pharmacy technicians' roles.
"Overall, our team is pleased," Lozano said. "We just want to have more candidates coming through so that we can hire them."
Lee Health is also an ACPE provider for pharmacist and pharmacy technician continuing education and provides ongoing educational opportunities. This allows pharmacy technicians to learn and advance their skills and expand their roles into other practice settings within the organization such as in regulatory compliance, patient assistance programs, pharmacy automation, and diversion prevention, explained Lozano.
"Another opportunity that we highly encourage within our organization is the possibility to obtain advanced pharmacy technician certifications," she said. "An example is the new National Pharmacy Technician Medication History Certificate, which allows the pharmacy technicians to support the pharmacists in the gathering of accurate medication histories to prevent prescription errors and improve patient safety."
The team is continuing to adapt, now working to see if they can bring some components of the program to an online module that students could complete at home and could help Teckenbrock with the scoring. That potentially could free up some time for her to lead an additional class in the mornings. Because some students use the program as a stepping stone to further careers in nursing or radiology, they're also looking at adjusting salaries to better retain technicians. Lozano added that Lee Health is currently taking steps to provide a living wage to their pharmacy technician workforce to facilitate it being a rewarding and financially viable career choice.
"As an organization, if you focus on [implementing] the PAI 2030 recommendations such as having a strong continuous professional development, robust competency assessment, and validation tools, then you can positively influence your pharmacy technician workforce and transform your organization's pharmacy practice."